Gift cards made simple and effortless for everyone.
From "Happy birthday" to "Thank you," customers love to give gift cards. And people love to get them. With Clover® Gift Cards, you can launch your own mobile gift card program in minutes.
Benefits for Business
Boost sales.
Bring new faces into your business. Even better, offering gift cards to customers may drive them to spend more than the value of the original gift card in your store.
Reduce fraud.
Replace paper certificates with gift cards and decrease the chances of cards being counterfeit, lost or stolen.
Engage customers.
Make it easy for customers to get and redeem cards right on their phones. Plus, when it's this easy to gift and redeem, it'll drive loyalty and foot traffic.
Stand out.
Help your business outshine other local merchants and compete with big-box stores when you offer gift cards.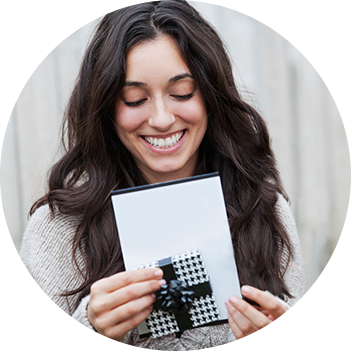 Key Components
Branded gift cards that eliminate the need for paper certificates
Ability to track balances, create promotions and issue store credit
Integration with your system so you can manage the entire program from one place*
* Requires eligible point-of-sale equipment